ICE HOTELS

A Five Stars Igloo

In Swedish Lapland, 200 km north of the Arctic Circle, you can take a unforgettable holiday in the world's biggest hotel made entirely of ice and snow; a warm and intense experience.



ice hotels map
The material from which Icehotel is built captivates people the world over.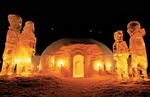 alaska ice hotel
This is an adventure in art and design, under the leadership of a real ice artist.
Dogsled - longer trip with the possibility to come a little bit closer the feeling of "Jack London", and of course to enjoy the nature and the dogs!
clik to view 360° panoramic pics of Icehotel in the little village of Jukkasjârvi in northern Lapland, Sweden.
http://www.panograf.com/kunder/icehotel/
for most informations and view, clik the link and take a tour

Utility Links:

Igloo Builders Guide - Norway
http://home.no.net/gedra/igloo_bg.htm
Meteo & temperatures in the Artic Circle
http://www.athropolis.com/map.htm
Igloo -the traditional artic snow dome
http://www.kstrom.net/isk/maps/houses/igloo.html

Link Hotels:

Canada
http://www.icehotel-canada.com/en/index.en.php
Alaska
http://www.chenahotsprings.com/icehotel.html
Greenland - Groenlandia
http://www.arcticexperience.co.uk/greenland/tours.ht
Cina - China
in the next future